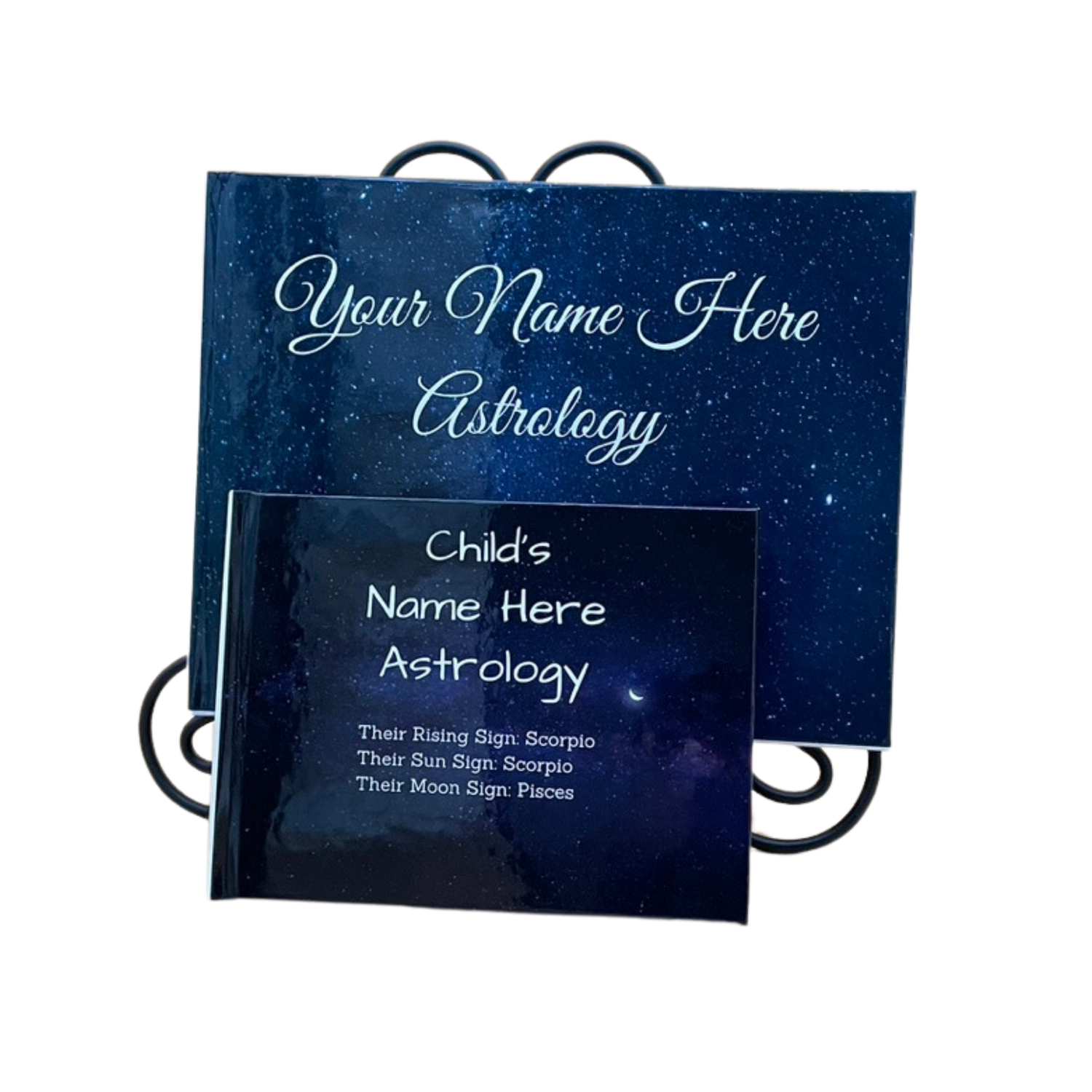 Curious how Astrology can provide you insights in to your daily life?
Tara offers a custom created Astrology book for adults and children.
These books are a labor of love, so she only takes a few orders at a time.
She uses a whole sign system to generate the birth chart, but then each book is created by research, cultivation and intuition.
Astrology can provide insights into your or your child's personality.
With all the information out there it can quickly become overwhelming.
These custom books bring the heavens down to earth, for you.
Providing you precise and clear ways to begin understanding and integrating your personal astrology into your daily life.
From embracing your natural traits to understanding why some things are more of a struggle for you.
These books simply and effortlessly give great insight into your or your child's personality.
What's Included?
Common Astrology Signs

Most people know their sun sign (Leo, Virgo, Scorpio etc.), but their rising and moon signs also play a significant role in someone's personality.

An indepth look into all three are included!

For the Adult Books...

There are points in astrology that help you lead a more fulfilling life if you lean into your strengths.

Note: These points are specifically excluded from the children books, so the kiddos can just be kids and create their own discovery of their world.

For the Adult, Child Set

Wouldn't it be nice to know where you and your kiddo are going to be in sync and where you might have a some differences? This set includes insights on both!
Interested in getting your own book?
To order any of the custom astrology books, you need to provide:
Date of Birth
Time of Birth
City, State (if applicable) and Country
If that information isn't provided a book cannot be created for you.
Filling out the form first helps you and Tara ensure she has all the necessary information to create your book.
These custom created books take approximately 4 weeks after your payment is processed.
Cost of books:
Custom Adult Astrology Book: $159
Custom Child Astrology Book: $129
Custom Adult and Child Astrology Book Set: $249 (savings of $39, if purchased seperately.)
After Tara reviews the form, she will send you an official order link.
Important Note: This is only the first step, completing this form doesn't order your book. To finalize your order complete the order link that is emailed to you after Tara reviews your form submission.
Custom Astrology Book Order Request
Important Infomation
Cost

Custom Adult Astrology Book: $159
Custom Child Astrology Book: $129
Custom Adult and Child Book Set: $249 (savings of $39, if purchased seperately.)
Book Creation Time

Tara uses a program to generate your whole sign birth chart.

Creating, publishing and binding the book will take approximately 4 weeks.
Process

You complete the Order Request form here.
Tara reviews the submission and may ask you clarify questions.
When step 2 is complete, Tara will send a payment link.
Once your payment has been received, Tara creates your custom book.
Tara sends book to printer
Printer prints and ships book directly to you.
You get awesome insights into your life!!
How data is handled

Tara understands the importance of handling sensitive data.

Once you submit your request form data is kept for roughly 30 days, if no order is placed within that time frame personal birth data is deleted.

When an order is placed, the birth data is deleted after roughly 60 days of you receiving your order.
Shipping

Shipping is free.
Book will ship directly from Printer.
Currently these books are only available to ship in the USA.
Returns and Refunds

These are completely custom books, so there are no returns or refunds.

If you have an issue please reach out to us.
Billing

Any purchase from Courageously Living will show up on your statement as Tara Wilken LLC
A bit of praise
I just wanted to say that Tara Wilken at CourageouslyLiving created a generously detailed, insightful and high-quality, hardcopy book of my astrological profile. This well-crafted book covers numerous aspects and influences across my three signs. Tara organizes the information in a simplistic, yet intuitive way; allowing me to use the information on a daily basis and in my daily activities. I've known a bit about astrology over the years but I never knew there was so much more to be discovered - but thanks to Tara's efforts, everything has now changed.
Additionally, Tara was absolutely wonderful to work with… and she's very responsive and customer focused from start to finish!
Lastly, the quality of the materials used in constructing this hardcopy book was second to none.

So, without hesitation, I would definitely recommend Tara's astrological products for anyone who is looking to discover more insightful/useful information about their astrological profile, delivered in a top-quality/easy to understand format.
~Dwight B